Hey guys, in this article, I am going to discuss the 5 best free WordPress Instagram feed plugins for 2023. So keep reading.
You must be well aware of Instagram, the visual-based platform that is currently one of the most influential social media platforms. According to us, it has that vibe that attracts people and holds them on the platform.
How about bridging the same charm to your WordPress website? Sounds interesting, right? Read this blog till the end to know how to do it.
There are various Instagram Plugins on WordPress that help you in this cause. This WordPress Instagram plugin enables you to embed Instagram feed on WordPress websites and showcase Instagram feed with ease.
As mentioned, various plugins are readily available to ease your embedding process, and hence, for your convenience, we have listed some of the best free WordPress Instagram feed plugins.
So without any further ado, let's learn about them.
Also, you can check Best Free WordPress Poll And Survey Plugins.
Premier Instagram Feed Plugins For WordPress
Instagram certainly stands as the best social media platform that focuses on visual-based content. However, we aren't making that claim. Instead, the user base of the platform stands as evidence for this claim.
And as it stands as the best platform, how about combining it with the best WordPress plugin? We have examined these best free WordPress Instagram feed plugins based on their usage, features, and prices.
1. Tagembed

Tagembed has already made a name for itself in the social media aggregator market. It is known for easing the embedding process and providing various features at budget-friendly prices.
It brings the magic to its Instagram plugin for WordPress. You can easily find it on the WordPress plugin store and install them with comfort.
The plugin helps you collect social media feeds and curate and customize them before displaying them on the website.
And as it is compatible with 18+ social media platforms including Instagram and all other major platforms, you can easily showcase various content on your website.
It provides a dedicated Instagram widget that helps you in displaying the Instagram feed on the website. In addition, the plugin allows you to choose an appropriate feed for your website.
For example, you can choose a hashtag feed and showcase all the content related to a particular hashtag.
Alongside facilitating the embedding process, it also provides various other features that add great value to this plugin. The features include – Customization – which allows you to personalize the feed as per your need.
Here you can change the font size, font style, background color of the widget, and more. You can showcase your artistic side and add beauty to the plugin.
Moreover, you have various layouts and themes to choose from, so select the one that you think best suits your website's style. The uniformity in the theme adds grace to your website and makes it look more professional.
It also offers the feature to moderate the feed. That means you can remove all unwanted and irrelevant content from your feed. You can either manually remove the content or opt for automation where the tool removes the content containing the provided keywords.
So it eventually helps you maintain your website's quality and keep the feed related to your business only. And with the responsive widget, display all the content to your visitors using any type of device.
---
2. Flow-Flow

Flow-flow is another WordPress plugin that allows you to collect, curate, customize, and embed Instagram feeds on websites. The user-friendly admin allows you to collect feeds from all major social media platforms, including Instagram.
The plugin allows you to display social media counters like comments, likes, and views to promote your Instagram handle.
In this age of social media dominance, it is important to have a strong social media presence as people often determine the quality and reputation of a brand based on their social media presence.
You have various themes and layouts and showcase the content on your website. For example, you can choose the Grid view that provides equal space for the content.
A grid view makes your content more organized. Many major social media platforms like Instagram often use Grid displays to showcase their content.
With the help of this Instagram WordPress plugin, you can use the same view with ease.
The automatic updates keep the visitors engaged, as they get to new content every time. The plugin showcases the content as soon as it uploads on the platform.
There is no need to refresh the feed manually.
---
3. 10Web Social Post Feed

Instagram images, videos, and other visual-based content add grace to the website; with the help 10Web Social Feed, you can easily bring that grace to your website.
Like the tools mentioned above, this Instagram feed WordPress plugin helps you display interactive feeds on your website.
With the customization option, you can personalize your widget as per your requirement. You can even choose the appropriate layout for your feed.
And with the moderation feature, you can easily remove all the unwanted and irrelevant content from the feed. It helps to keep the feed related to your business and spark interest in the minds of visitors.
---
4. WPZOOM Social Feed Widget

Consumers often look for reviews or social proof for the product they are looking to purchase. And Instagram is one of the platforms where they can find them with ease.
By displaying them on your website, you prove your credibility and help your consumers make their purchase decision. With WPZOOM social feed widget, you can easily embed the Instagram photo gallery and feeds.
It is a lightweight plugin that streams Instagram images and videos without affecting the website's speed. The easy setup and embedding process makes it one of the best free WordPress Instagram feed plugins in the plugin store.
---
5. WP Social Ninja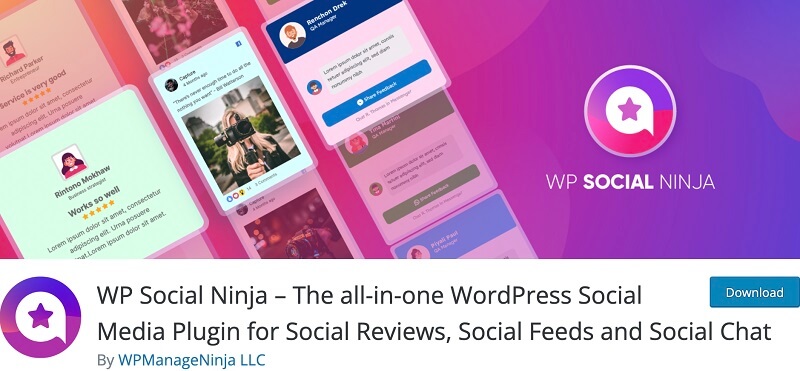 If you're looking for a powerful and efficient tool to manage your social media presence, look no further than WP Social Ninja. This all-in-one social media or Instagram feed plugin for WordPress makes connecting, displaying, and growing your social media presence easy. With WP Social Ninja, you can facilitate your social media efforts and take your online presence to the next level.
WP Social Ninja integrates seamlessly with your WordPress site, allowing you to connect all of your social media profiles and share your content with ease. You can easily display your Instagram feed, Facebook, Twitter, YouTube feed, and other social media accounts on your website with just a few clicks.
Overall, this plugin has 29+ social platforms that allow small businesses and others to manage and display all their social media content. This supper plugin supports 4+ social feeds, 9+ review platforms, and 15+ chat widgets.
In addition, WP Social Ninja is also fully customizable, allowing you to personalize your social media experience to match your brand and preferences. You can prefer from a wide range of customization options, including different filters, layouts, and other styling options, to create a unique look and feel that's in line with your brand.
Finally, WP Social Ninja is user-friendly and easy to use, making it accessible to even those who are not tech-savvy. The intuitive interface and the robust support and documentation resources ensure you always have the help you need.
Key Features of WP Social Ninja:
Notification popup

Testimonials 

Shoppable Instagram feed

Facebook Event/Album feed

Export/Import custom reviews

Shortcode supported

Real-time syncing

Manual syncing

Translation options

Schema snippet

100% responsive
---
Summing It Up
Instagram is an influential social media platform that helps businesses to achieve their business goals. So by opting to embed an Instagram feed on a WordPress website, you can extract maximum benefits from the platform.
Above mentioned free WordPress Instagram feed plugins help you in this case. You can easily find them on the WordPress plugin store, so go ahead, try them now, and pick the one that suits you best.