Any competition or celebration must leave some memory in the minds of participants. You need something that can remind them about your particular event. In order to create such memory, people created medals, awarding lists, and certificates. And we can help you with certificates and awards lists. You can use them to boost the value of sports competitions or confirm the completion of educational courses. There are many certificate templates on the TemplateMonster marketplace. Some are stricter and others have creatives design. Yet, all of them are professionally developed and print-ready. You can find great certificate templates for various types of sports. Or you can celebrate a company anniversary. You can also fit your certificates for many other purposes. All you need is to use imagination.
Certificate templates from TemplateMonster have a professionally developed design and look eye-catchy. Such a tool will be a good option to impress participants and move away from old-style and unattractive awarding lists. It will be a good idea for any school or college too. You can show that you care about your clients if your certificates look good. Moreover, a certificate with a well-developed design will be a great decoration for a cabinet wall. It may be a valuable and attractive prize for your clients.
We know it may take some time to find a good certificate template. In order to help you make a choice we made a list of the top 10 certificate templates. They suit various purposes and you can use them for a long time. Moreover, these products have a reasonable price. They are a great option in case you want to save time and money. You can edit them and decorate them to create a new design. Or you can simply fill them with additional information. So do not waste your time and check listed product pages to find out more.
Press Certificate Template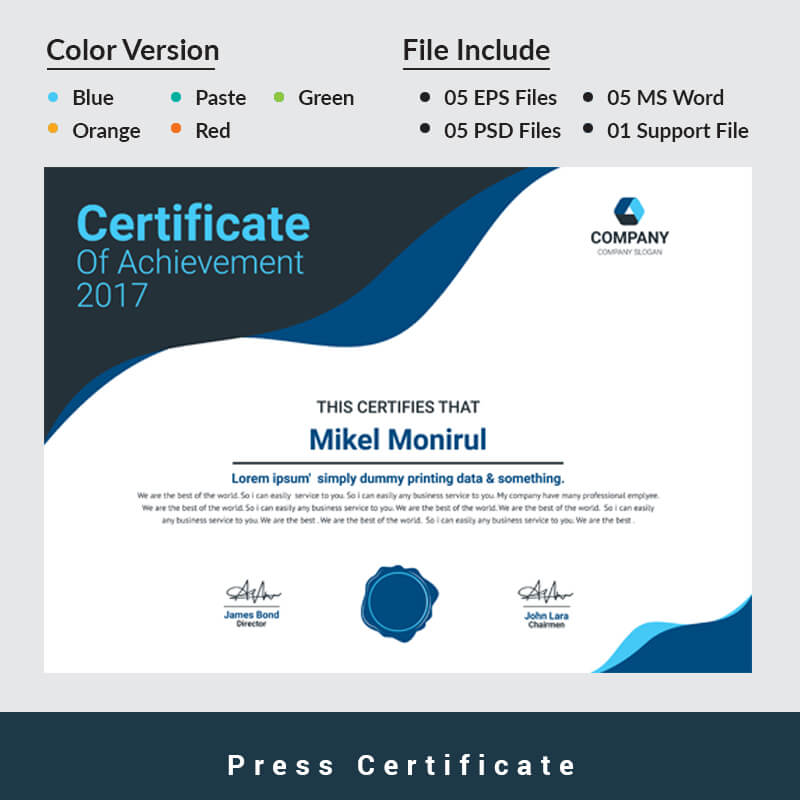 This is a simple and multipurpose certificate template made in modern style. It has a calm and attractive color scheme that suits government programs, non-government programs, and memorial days. You can use it to make an accent on someone's achievements or to honor participants. It also will be a good choice for school finals or educational courses. Press Certificate will be your multitool and you can edit it from one event to another. It includes 5 EPS files, 5 files in PSD, and 5 in MS Word files. In addition, it is pepper size and print-ready.
---
Certificate of Completion Certificate Template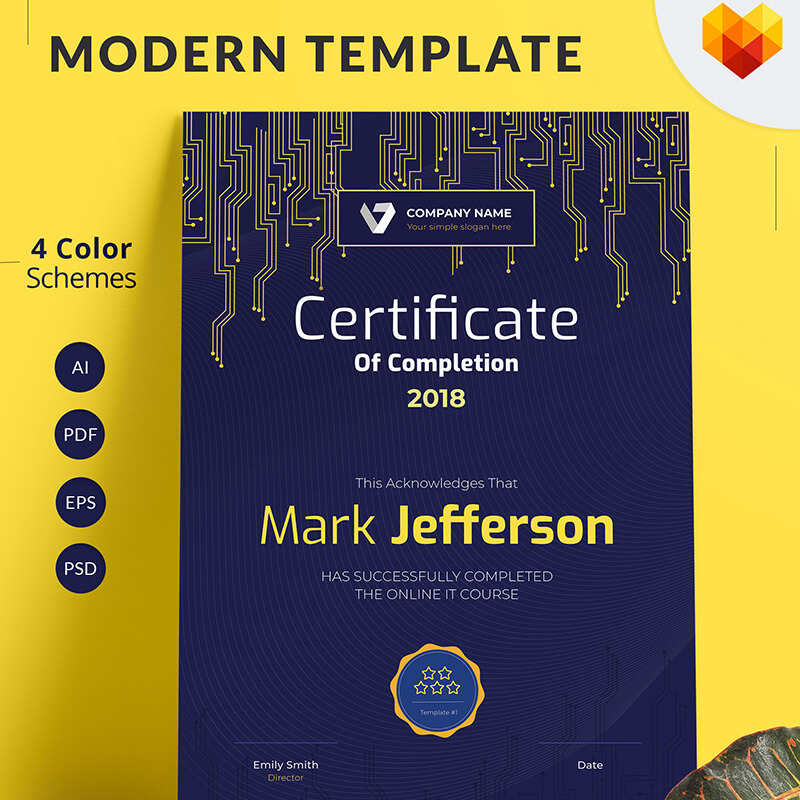 If you run educational courses then you need something modern and eye-catchy for your certificates. They have to look great in order to attract more students. In this case, you may like to download something special and well-designed. And we have what you need. A Certificate of Completion is a creative certificate template with attractive visual elements. It is a MotoCMS certificate and allows you to develop your own design easily. And in case you want to decorate or edit a ready design, all you need is Adobe Photoshop.
---
Mikel Smith Creative Certificate Template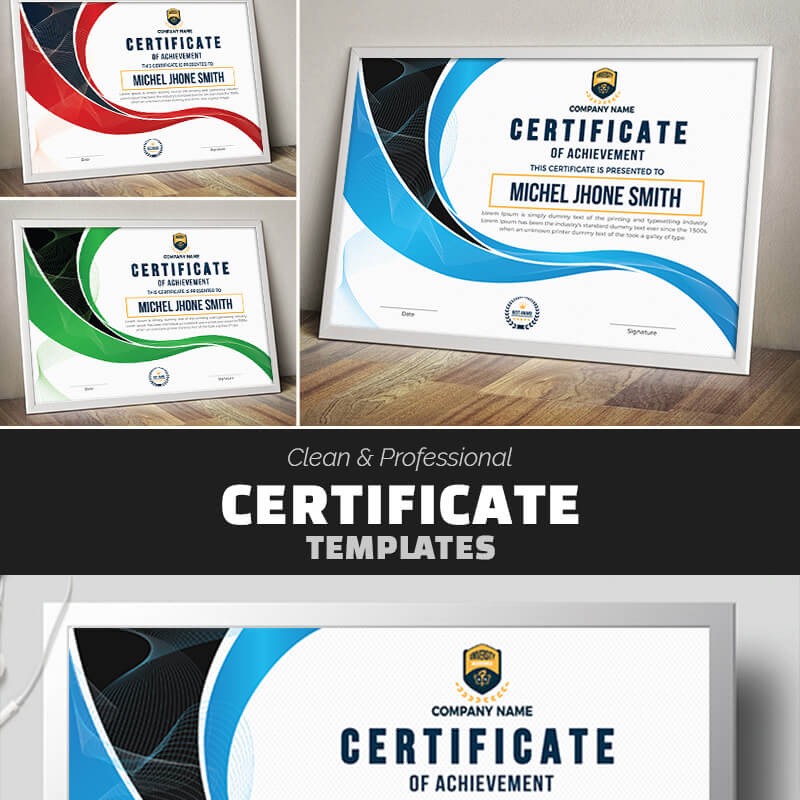 Mikel Smith is another creative certificate template. It looks modern and clean. Yet, it is also eye-catchy and fully editable. You can change the template color and structure. It comes in A4 printed size and will be easily printed. The template comes in Illustrator AI & EPS Files. Moreover, you will have lifetime support and a help file. Michael Smith will be a perfect option for sports award lists, charity funds certificates, and educational courses certificates. It is a creative, well-designed template for many occasions.
---
Classic Appreciation Certificate Template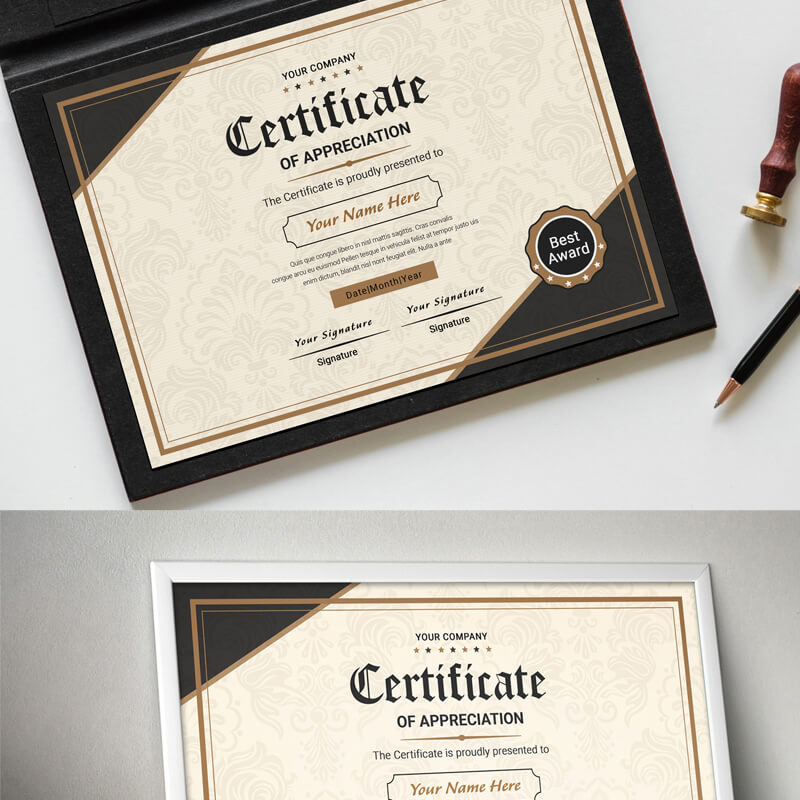 We try to create a huge variety of products in our marketplace. This is why our designers use different styles for certificate templates. For example, this Classic Appreciation Certificate is a gorgeous and old-style template. Designers made it strict, yet attractive. They used classical certificate structure and moderate color scheme. Yet, due to eye-catchy visual elements, this looks fresh and impressive. Moreover, you can change any part of this template to make it even more suitable for any event. It suites perfectly chess competitions, undercity graduation, official events, and many other events.
---
Modern Certificate Template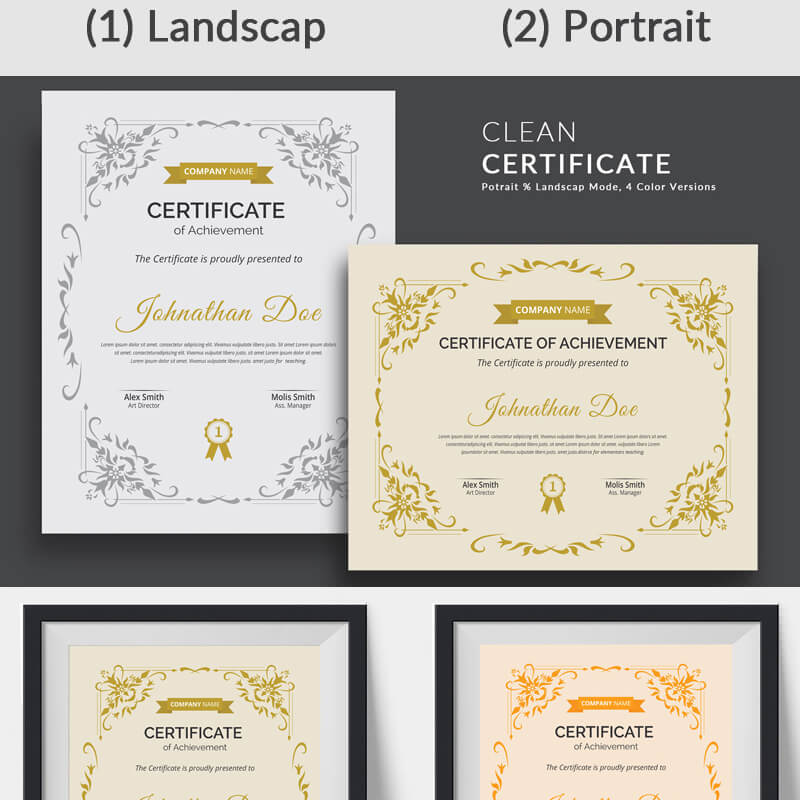 Designers made this certificate template modern and gorgeous. It is bright, well-decorated, and has no redundant structure elements. It suits many events. You can use it for a wedding, fashion industry, literature club honor list, or even a design education courses certificate. You can use it for any event you want. Just edit it with Adobe Illustrator or Adobe Photoshop. It includes 6 PSD files for Adobe Photoshop and 6 EPS files for Adobe Illustrator. Moreover, it is print-ready and comes in 3 color options.
---
Graduation Certificate Template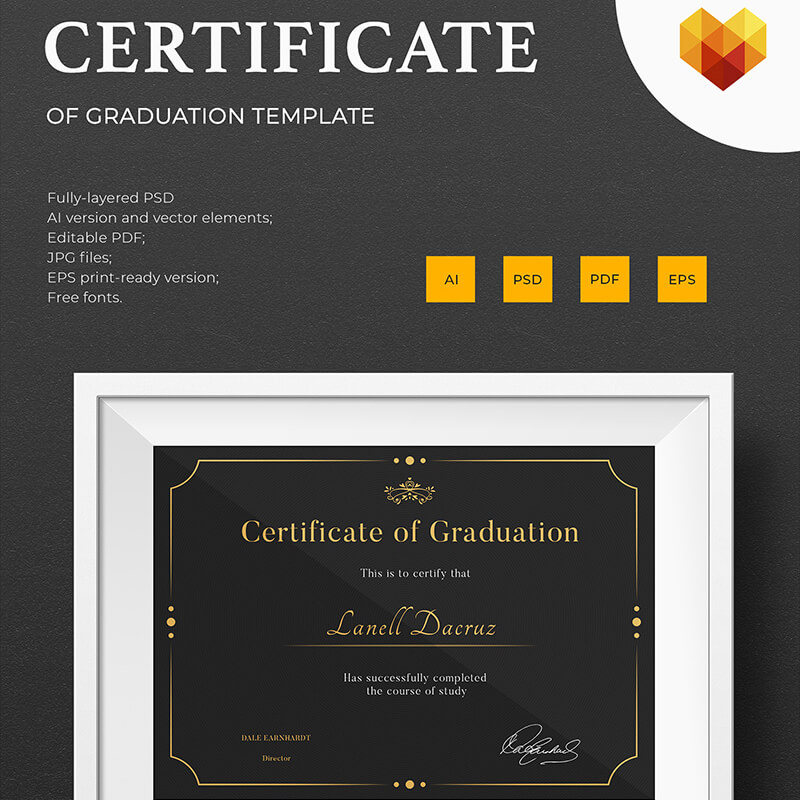 Graduation Certificate Template is another MotoCMS template. Due to MotoCMS, you will have additional options for the creation of your certificates. It is a reliable tool in creating what you really need. AS the name implies it is a perfect choice for graduations. But due to professionally developed design, this theme is a good option for numerous other events. It comes in AI, PSD, PDF, and EPS files and includes horizontal and vertical layouts. It is simple and gorgeous. Such a solid certificate will look good on any cabinet wall.
---
Vintage Elegant Certificate Template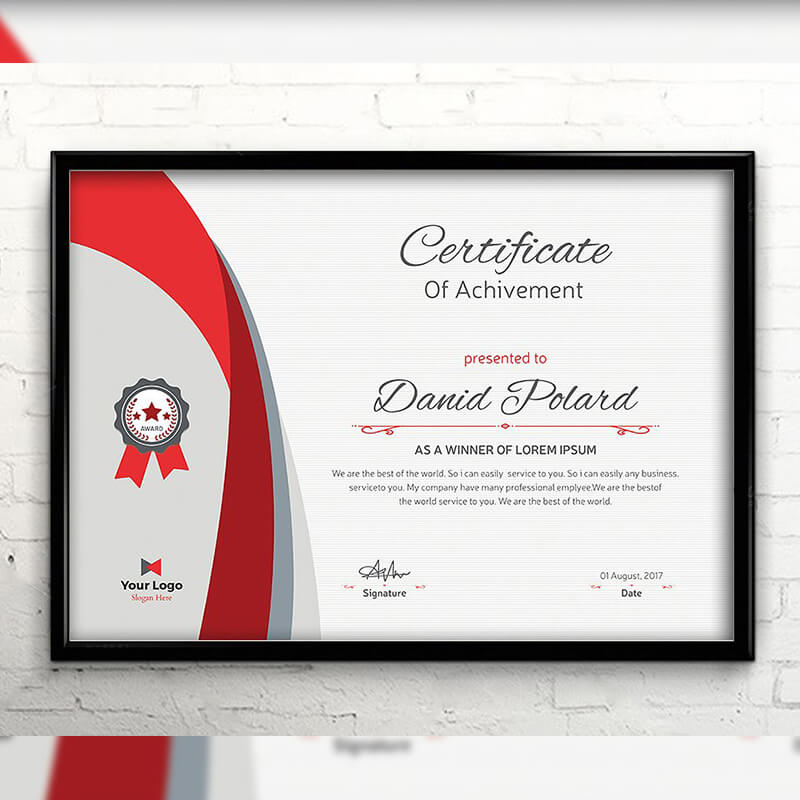 If you are looking for something vintage for your certificate then you should check this template. It is multitool for any competitions. You can use it for a sports competition or education tournament. You can also use it to honor the winners. Due to the designer's hard work, it is a simple and attractive website template filled with eye-catchy elements. You can easily edit this template with Adobe Illustrator to create your own design. And after you created a certificate you can simply print it in A4 size.
---
Red&Gray Achievement Certificate Template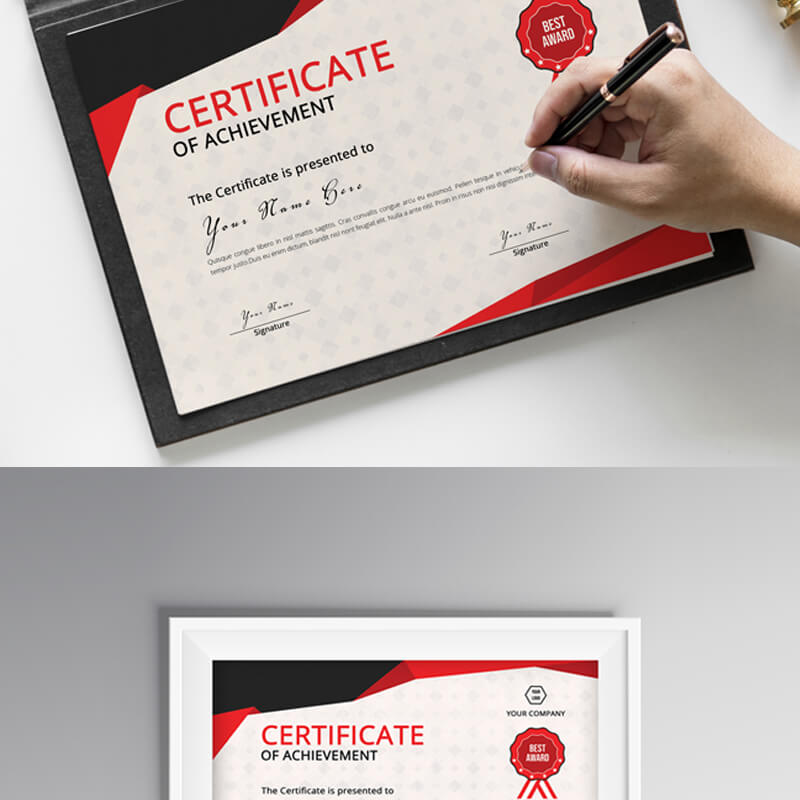 This stylish certificate template will be a reliable tool for any company. It is Multipurpose due to its well-developed design. Made in a modern style it is attractive and suits any event. Moreover, it comes in A4 size and you can change any part of it. All you need is Adobe Photoshop. Red&Gray Achievement is a great choice for any award-giving certificate, certificate of excellence, certificate of appreciation, certificate of achievement, certificate of recognition, celebration certificate, or event card. Just check the product page and you will see how good it is.
---
Professional Completion Award Certificate Template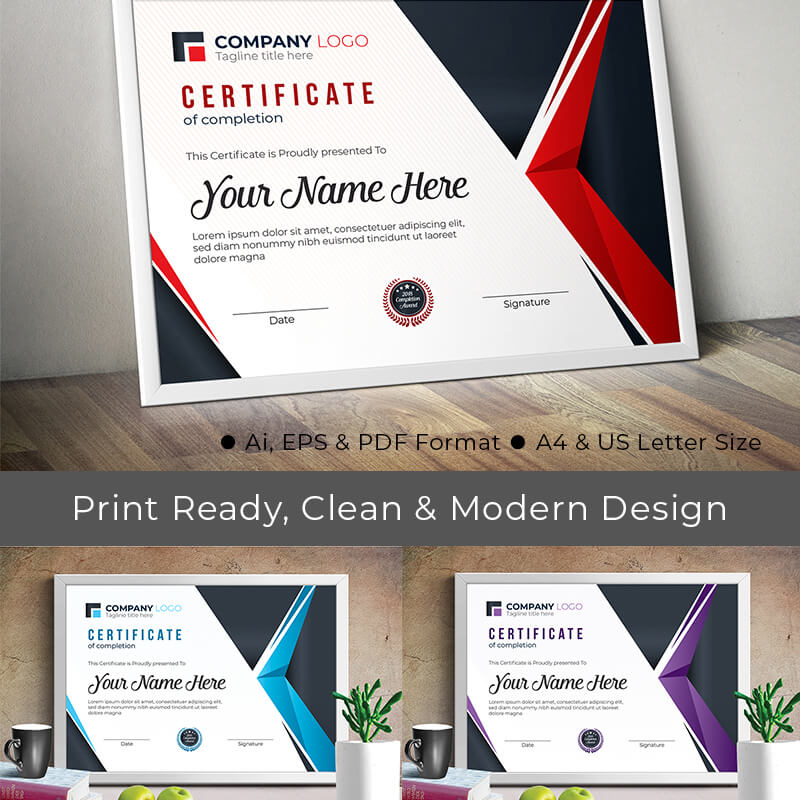 This certificate template was developed to highlight your employees and students. It is eye-catchy and strict. You can highlight people for any merit with this template. It suits perfectly awarding lists and completion certificates. Yet, this template can be used for many other purposes. Just edit it with Adobe Illustrator to insert new text and elements. The professional competition template comes in the CMYK color model and will be great for printing. It also includes a help file, 6 Ai, 6 EPS, and 6 editable PDF files.
---
Memphis Award Certificate Template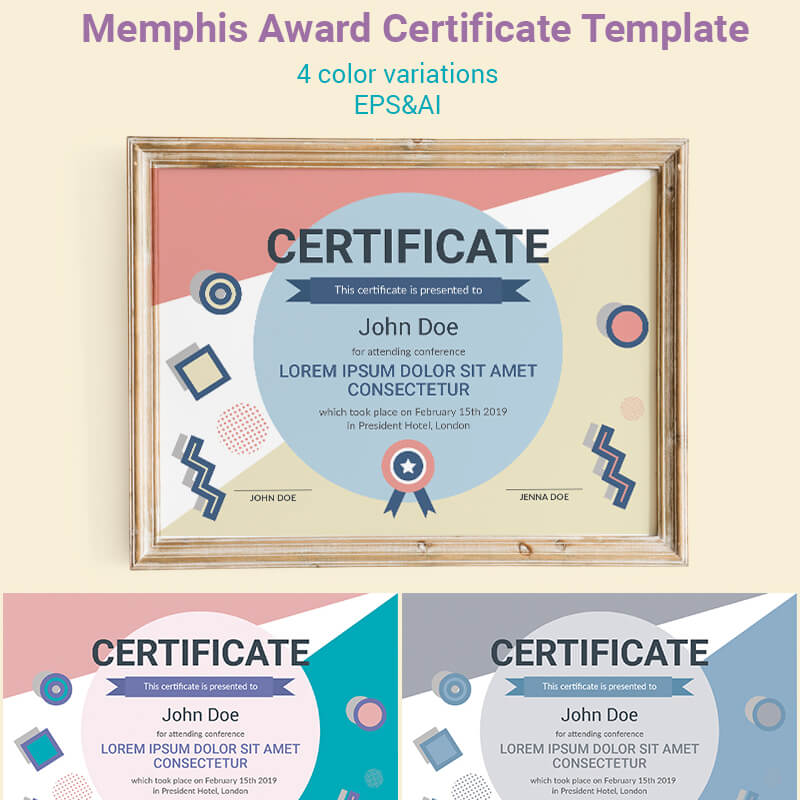 Sometimes you need something colorful and creative. This is why we recommend you check this Memphis Award Certificate template. It is developed in cheerful style by creative designers and suits many purposes. You can use it for awards lists, honor certificates, and certificates of achievement. Due to its colorful design, it suits children's certificates and school award lists. This template comes in both US and A4 sizes. Moreover, it is fully editable and fully layered. It has scalable vector .ai and .eps versions. So go to the product page to see more.
---
Conclusion
In this list of the top 10 certificate templates, you will find a perfect option for your award list, certificate of achievement, certificate of appreciation, certificate of completion, and any other purpose. Most of these templates are multipurpose. And all of them are fully editable and well-designed. It will be a great addition to your sports or educational activities. And if you have any questions about the product you can address our 24/7 marketplace support. So check this list and download the perfects certificates template.