Looking for a free online plagiarism checker? In this article, we have listed the best plagiarism checker tools that show 100% accurate results. Before moving on to them let's first know what plagiarism really is, and why it is considered an unethical act.
What is Plagiarism?
Plagiarism means copying someone else's idea or work and used as one's own. A recent survey shows that over 25% of newly created pages consist of copy or duplicate content. This is really unfair for those who are creating fresh and original content. They put a lot of time and hard work to research that content to produce fresh original content and after all of this, they find out that their content is being copied. It is really frustrating. Plagiarism is not against the law but it is against moral ethics because you are stealing someone else's hard work.
To stop Plagiarism and protect the consistency of original content, these plagiarism checker tools are developed. There is a lot of Plagiarism checkers are available online. we have listed some best Plagiarism checkers that may help you to find the right tool for you.
List Of Best Plagiarism Checker Tools:
1. Scribbr
2. Grammarly
3. Unicheck
4. DupliChecker
5. Plagramme
1. Scribbr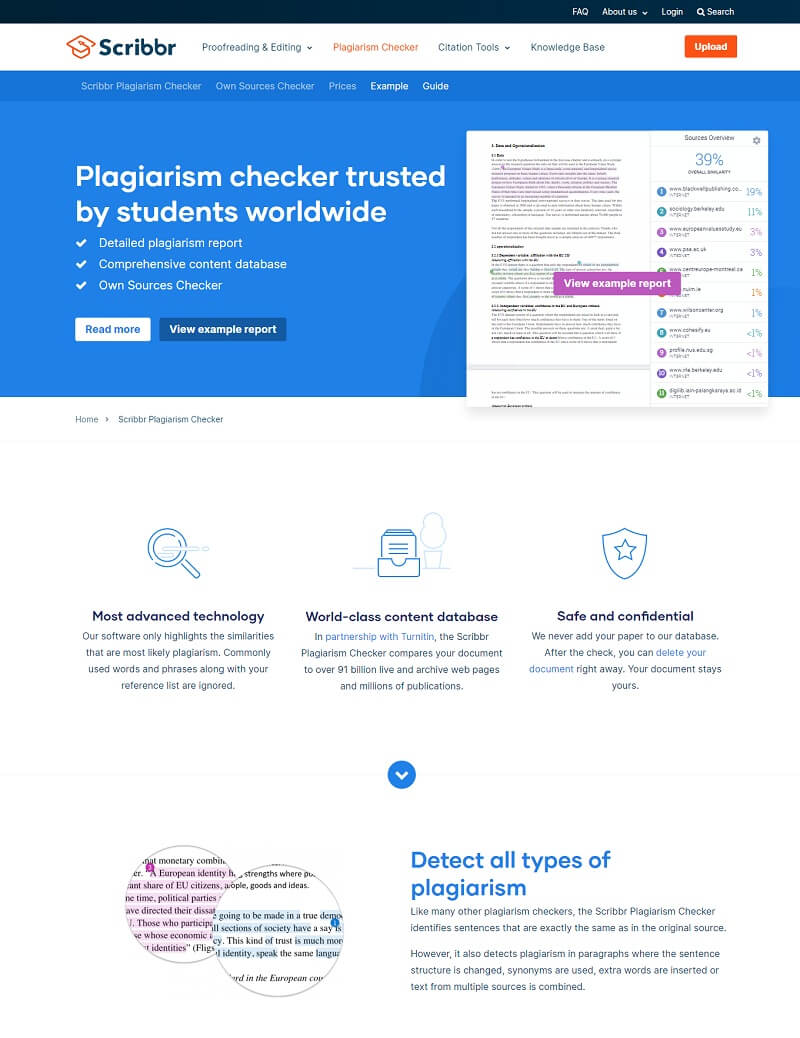 Scribbr is one of the most popular and trusted plagiarism checker tools available in the market. It was initially launched in 2012, gained a lot of praise, and now it's one of the best Plagiarism Checker. It is well known for its accuracy and self-plagiarism checking. they consist large source database and they use this database to check the plagiarism in sample content. Scribbr's database contains varieties of books and journals, which provides a huge advantage over other plagiarism checker tools. Scribbr is majorly used by the students and the writers who are writing content but don't have time to cross-check it. Scribbr supports multiple languages (over 20 languages). Own source checker is another intriguing feature of Scribbr, with this you can easily check for self or auto plagiarism. All of these features come with a price. This price varies according to the size of the content that you want to check for plagiarism. Price for shorter content (up to 7,500 words) is $18.95, for average content (7,500-50,000 words) is $28.95 and for longer content (50,000+ words) is $39.95.
Key features:
Elaborated Plagiarism reports
Big source database for plagiarism checking
Consist own source checker
Multilingual- features 20+ languages
2. Grammarly
Grammarly is another popular online Plagiarism checker. It was initially launched as a proofreader in 2009 but since then has developed into a very reliable plagiarism checker. This tool not just checks the plagiarism in the text but also checks the grammatical and spelling mistakes. It really helps while you are writing a formal email and report, social media posts, articles, and blogs. Grammarly cross-examines your content or data from over the billions of web pages and ProQuest databases. It is a premium quality plagiarism checker with high accuracy and top of that it's free of cost. Grammarly premium provides you some extra features that help you to scan your work while you write mails, reports, messages, documents, and even posts on Gmail, Instagram, Yahoo, Slack, Snapchat, Linked In, Twitter, Google docs, and Facebook. That's why after every check, it offers you a detailed report on your wor grammar-wise. The basic version of Grammarly is free of cost and for the premium version, they charged $144/year.
Key features:
Quick plagiarism reports
Highly data secured platform
Check plagiarism across billions of web resources
Shows grammatical and spelling mistakes
Free basic version
3. Unicheck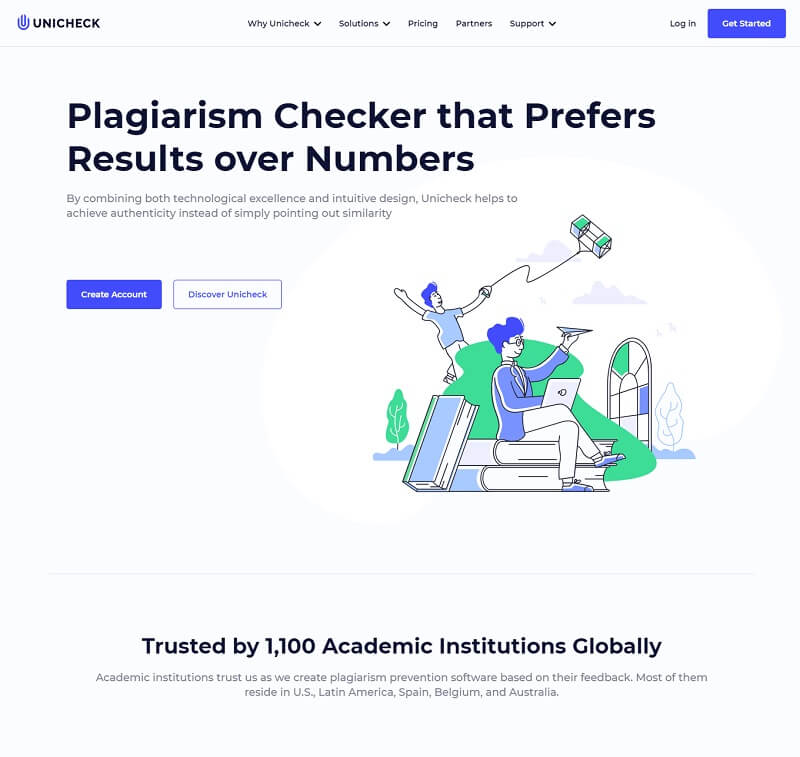 Unicheck is grown popular over the years and now it's ranked in top plagiarism checkers in the world. Unicheck is used widely across the world and has over a million registered users. it checks your content against their cloud-based database for plagiarism. For its high accuracy and efficiency, it's not just used by business companies but also used by universities. One of their main strengths possesses a group of features that made it popular. These features include a Google Docs or Google Workspace add-on so checking happens at the same time when you start writing your content. This means as you surge your ideas into them, Unicheck will be highlighting citations and similarities at the same time. This saves a lot of time for users. The basic version of Unichecker is free of cost that provides you the basic feature of plagiarism checking after that Its charges $5.00 per feature.
Key features:
Google Docs add-on feature
Real-time plagiarism checking
Free version
Secure private cloud
24*7 customer support
4. DupliChecker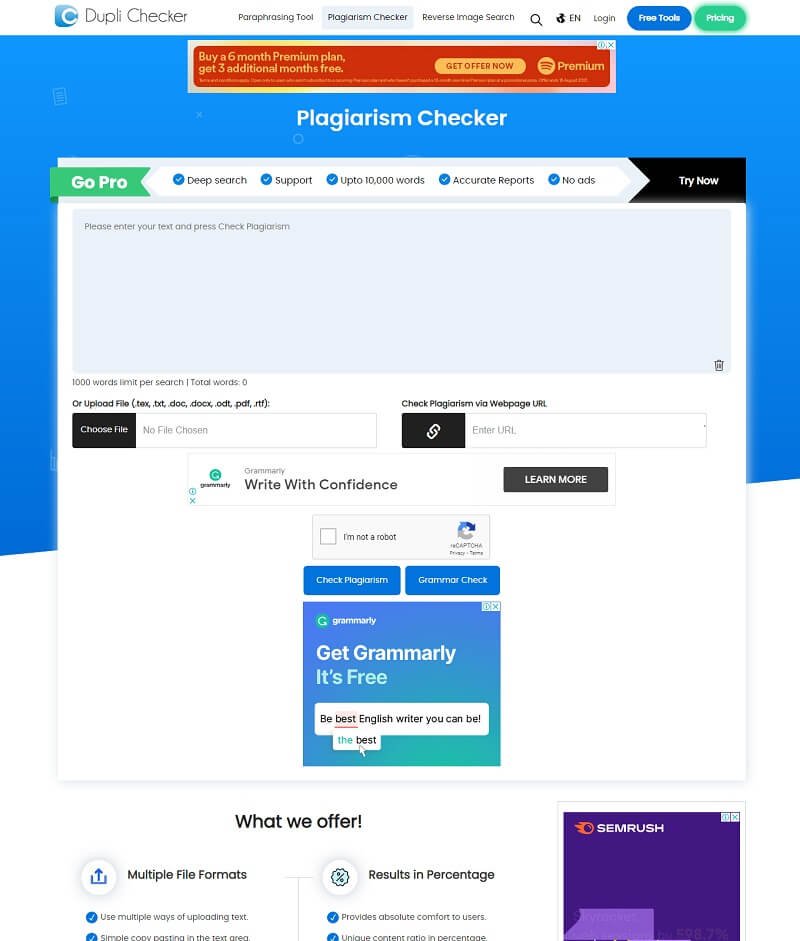 DupliChecker is a free online plagiarism checker and is well known for its high accuracy and efficiency. It checks the web data for the same paragraphs, phrases, or sentences, you've written on your post or website and directs you to external URLs that have the same content. Unlike other plagiarism checkers tools, Duplichecker is completely free to use and you don't require any account to use it. It consists very simply interface in which you just need to copy-paste your content and it will check it for plagiarism. Duplichecker allows you to either copy-paste your content in the field or upload a Docx or Text file from your PC or laptop. The DupliChecker provides you 50 checks per day at most after registration and one check for unregistered users.
Key features:
Free of cost
High accuracy and efficiency
Quick checking
Reverse image search
Easy to use a simple interface
5. Plagramme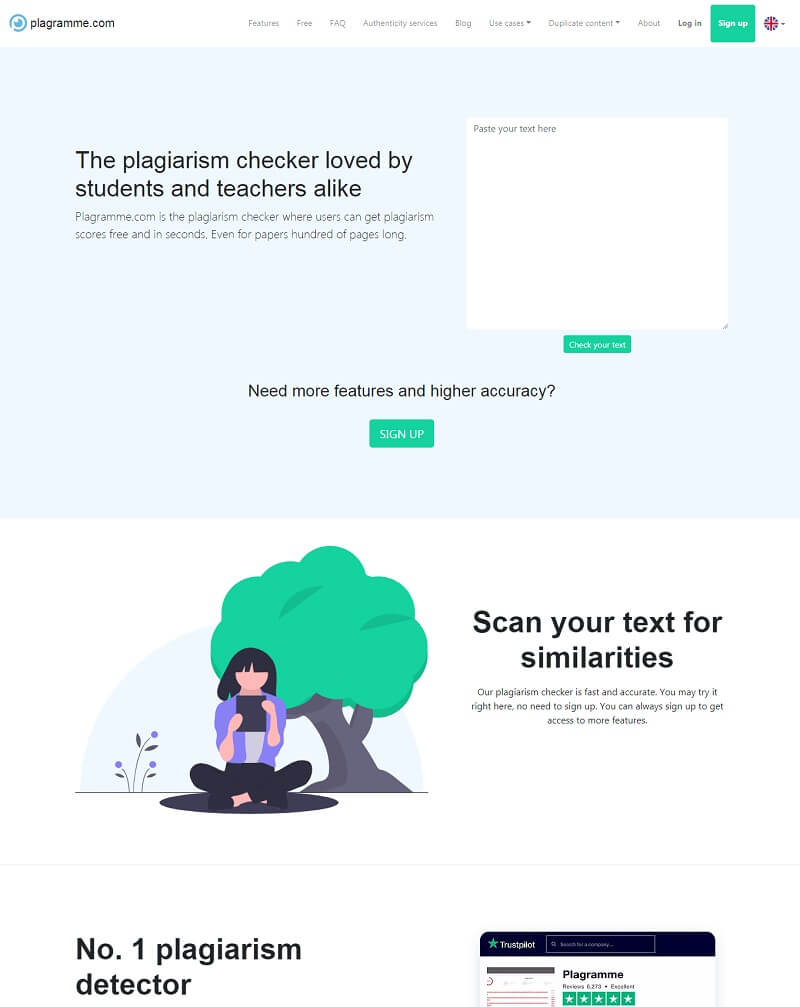 Plagramme is a fast and accurate free online plagiarism checker. It was found by Arturas Vinckevicius in 2011. It checks your content for plagiarism by across examine the paragraphs, phrases, or sentences in your content to a web source. If it finds any plagiarism in content its highlights that sentence or phrase in it. It also provides a real-time plagiarism feature that highlights the similarities simultaneously while writing content. It supports over 120+languages and is widely used by universities, companies, and individuals as it doesn't have any word limit and top of that it's completely free to users as many times as you want. considering the features It surely is one of the best free online plagiarism checker.
Key features:
Real-time plagiarism checking
No word limit
Multilingual- supports 120+ languages
High accuracy and efficiency
instant checking
Free of cost
Use these best plagiarism checker tools to avoid any copied content on your site. All these tools have their own properties and feature list. Choose anyone according to your needs.
Also, tell me which tool you liked most in the comment section below.