"What could be worse than listening to a boring PowerPoint presentation? Being the one who delivers it."
Time and again, you're not sure which best PowerPoint themes to choose to make your slideshows look awesome, delight your audience, and be memorable. And you don't want to rely on PowerPoint defaults anymore, because they simply look no good. If you want to improve your stale and boring PPT template and turn it into something special, you have no choice, but to research the Internet hunting for cool PowerPoint templates. Either way, true excellence isn't that easy to find. Often, they either look cheesy or just dull. This is why I've decided to give you a helping hand and have come up with the ultimate collection of the best PowerPoint themes for 2019. Throughout this article, I'm going to survey 10 of the best cool PowerPoint templates that can help you skip the work of designing a presentation from scratch. I focused on gathering the most eye-catching images, effective data visualizations, and bold typography. Most importantly we made these cool templates easy for you to edit and adjust. This is what works according to our experience. Here's my promise – these templates will capture your audience's attention like never before.
Pitch Deck – Powerpoint Templates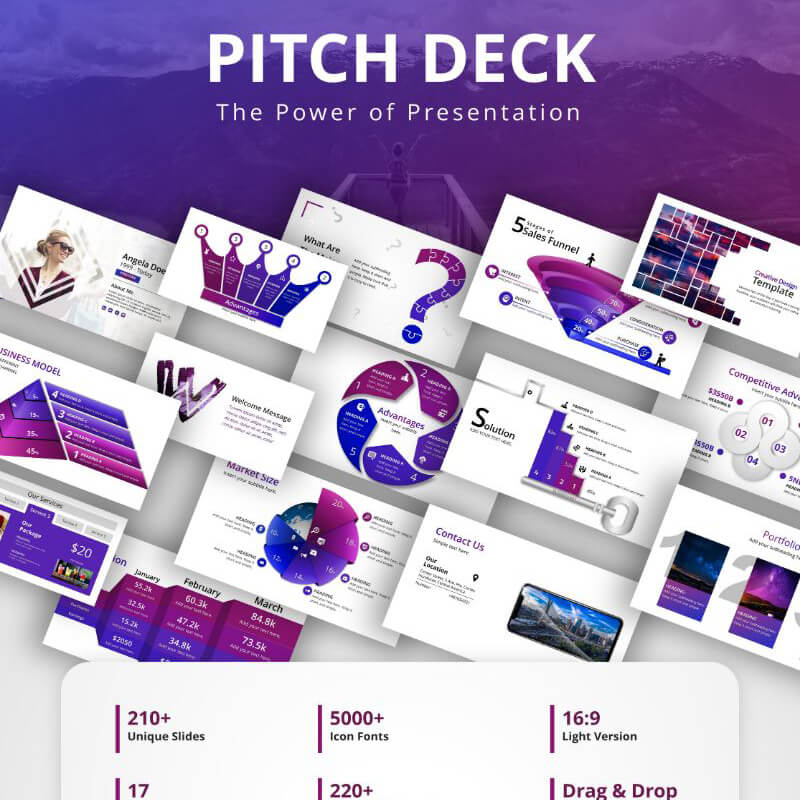 These ready-to-use, business plan templates for PowerPoint have unique slide designs and great visuals to choose from. You can use them to showcase the concepts in your PowerPoint pitch deck with pre-built slides for your: business plan, product vision, business model, market size, infographics. When you're preparing to give your pitch, you need all of the help you can get to save time and impress the audience. Starting with a PowerPoint pitch deck template will save you hours of design work and increase your performance. Just add your business ideas and key data to these already visually impactful business plan PPT slides, quickly prep your business pitch template, and you're ready to win over investors.
---
2018 Pitch Deck PowerPoint Template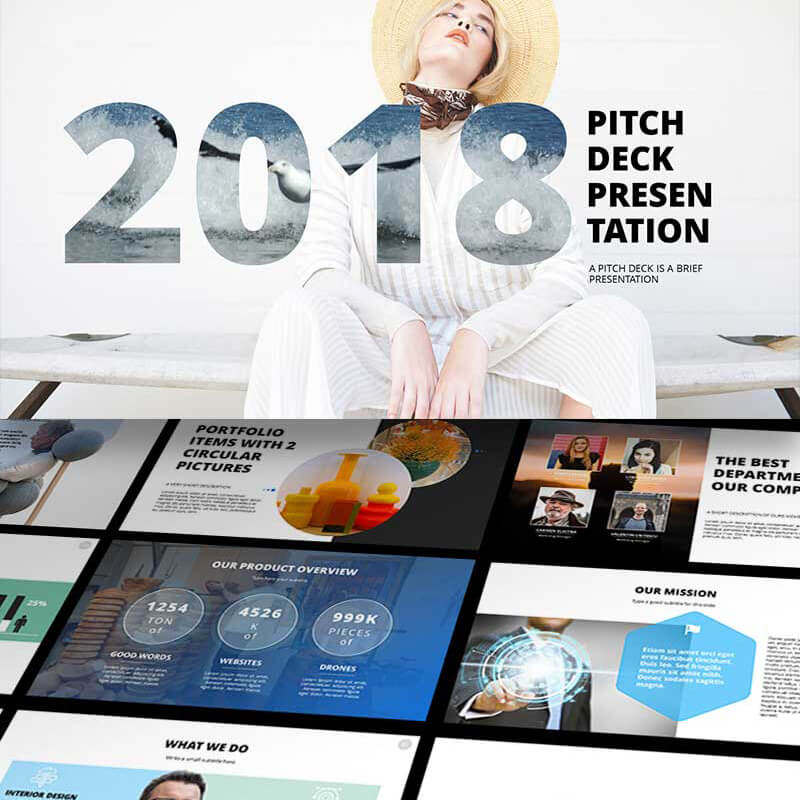 There are many options for creating a pitch deck template, but the 2018 Pitch Deck PowerPoint Template is one of the most stylish ones. If your startup is visually focused (like fashion, furniture, or social companies) then a deck like this PPT theme can really set your new concept apart from the crowd thanks to the beautiful slide designs. It's got a clean design, with friendly illustrations, quality aesthetics, and easy-to-read typography that'll keep your presentation accessible and focused. Imagery takes center stage in the 2018 Pitch Deck PowerPoint Template with simple business information complementing the image placeholders. Highlight the market you're targeting, the problem you're solving, your innovative product or service, and pitch your business concept to potential investors.
---
Business Pack PowerPoint Template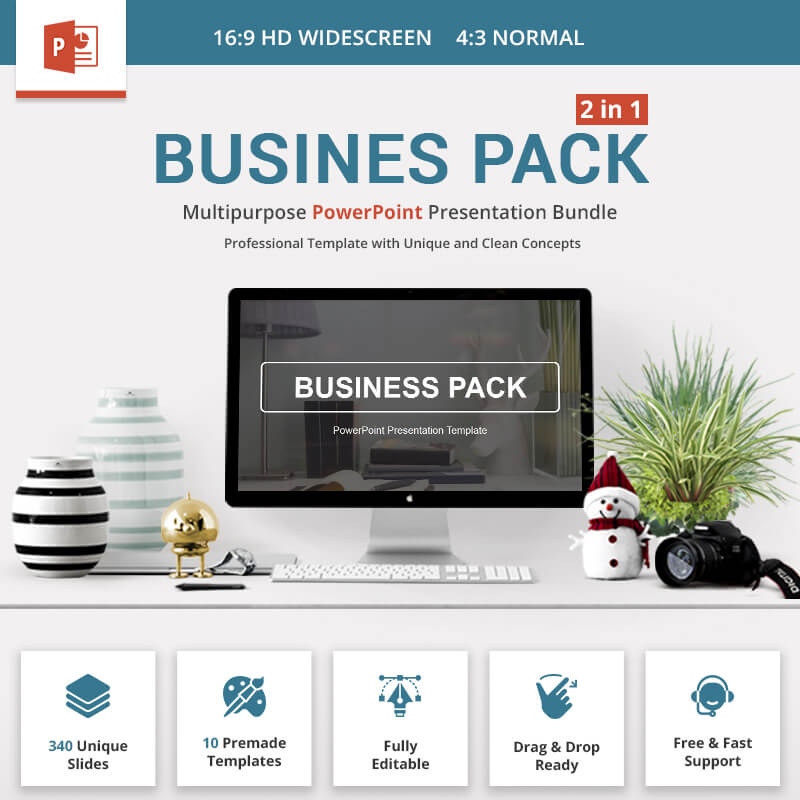 No matter how long or short your presentation is, you'll find something useful in this 26-slide template pack. It doesn't even matter what industry you're in. If you need a quick and professional template, look no further than this. You can use this template to outline your organizational chart. You can also use it to simplify your complex business processes. If you're doing a business proposal, you can use some of the slides to explain how your plan will work and how it's going to materialize. You can use this pack to give a little background about your company, your social media statistics, and your business process. You can even share a bit about your team's travel adventures.
---
Online Marketing PowerPoint Template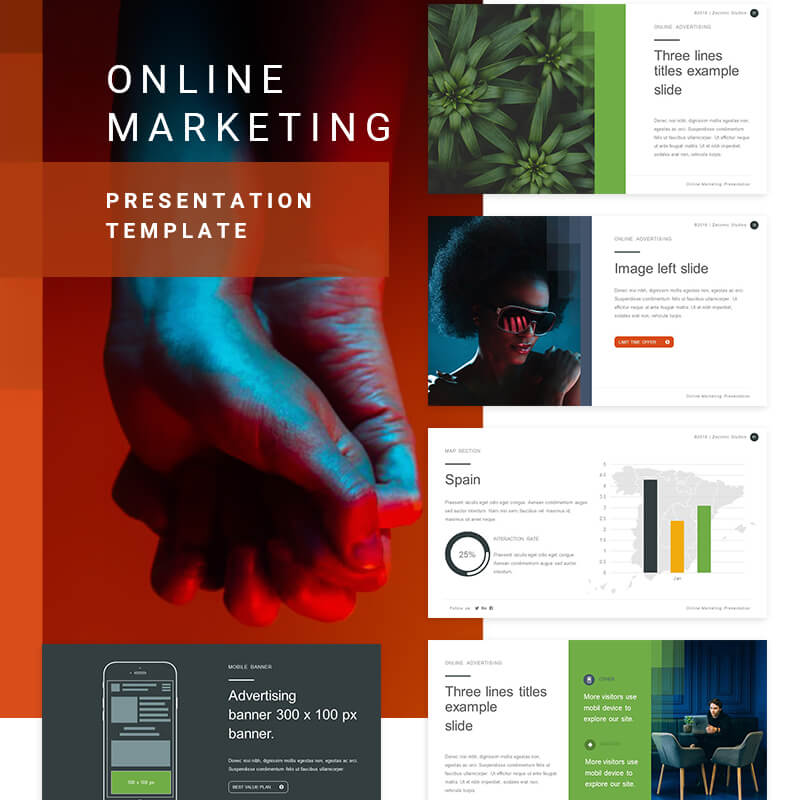 This template has been specially designed for keeping in the needs of business marketers and marketing agencies. The multiple graphical components can help make a very compelling show while conveying the results of social media campaigns and the data dashboard of online businesses. This template is created in a colorful scheme with serial step processes, tables, and charts, diagrams, title boxes, and text placeholders. This presentation template includes professional editable PowerPoint Icons, created with smooth images. All icons can be written in all their properties like color, size, shape, position, and effects. This PowerPoint template allows you to focus on your business fundamental way. Additionally, this Online Marketing PowerPoint Template provides you an established presentation and valuable analysis for your business presentations. You will certainly pass your plan and objectives straight to your views. This PowerPoint template is very effective in appealing to the global audience with dashboard data and information.
---
Ethice – Business Pack PowerPoint Template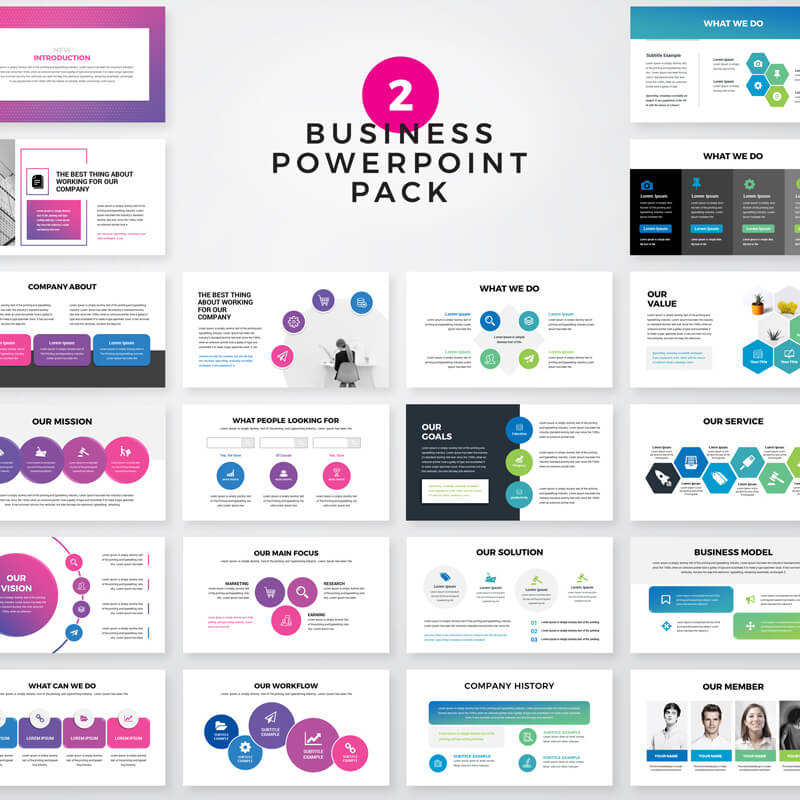 This premium Ethice PPT template is great for creating a variety of business presentations, such as presenting your business plan, detailing your market research, showcasing your social media strategy, highlighting emerging trends, or detailing a compelling corporate case study. It comes with a ton of PowerPoint slide layout options and fully-editable vector brand elements, professional infographics, quality vector illustrations, numerous color options, and more. Featuring a modern design that's also extremely professional, you'll find a vast array of templates for everything from videos to infographics, making it quick and easy to compile a presentation. The end result will be fresh, functional, and professional.
---
Startup Pitch Deck PowerPoint Template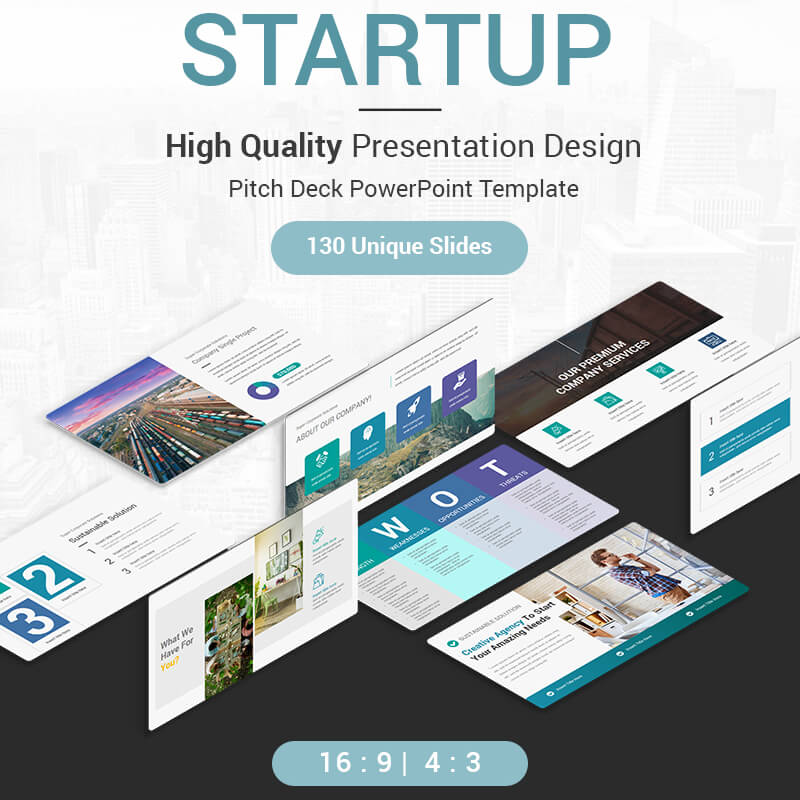 If your startup seeks to solve a unique challenge, it might be difficult for a potential investor to understand exactly what it is that you do. That's why it's so helpful to use an infographic that explains your process and purpose. You'll see the presentation slides that are crucial to telling the story of your startups like a timeline, pricing tables, portfolio imagery, and more. All these are the vital elements that every investor will want to see as they weigh coming along for your growth journey. This startup pitch deck has you covered for your business presentation thanks to the beautiful and easy-to-customize business plan infographics. Showcasing growth in your presentation is key, and Pitch Werk has you covered on just that, thanks to slick charts and graphs you can use to show progression in user growth and participation.
---
Infographic Presentation Pack PowerPoint Template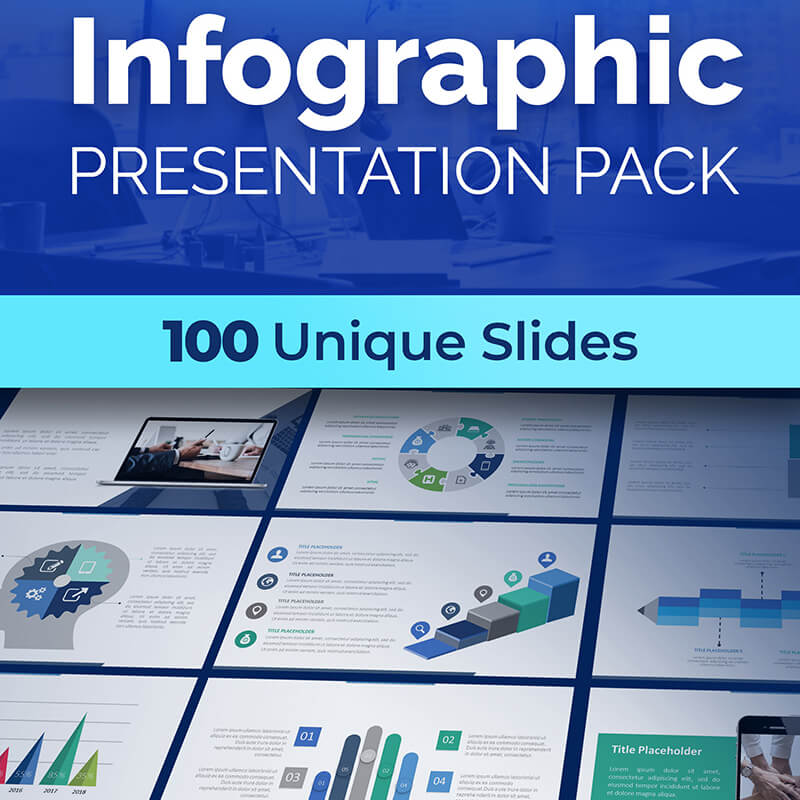 This Infographic Presentation Pack PowerPoint Template reduces your work by supplying templates designed with busy entrepreneurs in mind. With 100+ fully editable slides, infographics, and diagrams, this PPT theme provides you with the mockups you need to deliver a strong pitch. You can flawlessly move, resize or change colors throughout your presentation slides. It includes infographic charts and diagrams against a white background. In addition to charts and diagrams, the template includes a map, a device mockup, a timeline, and more. This versatile PowerPoint template can be used for whatever you need—including brochures, corporate reports, and flyers as well as presentations. The custom vector graphics, smart art, and infographic slide designs are ready to add your custom information too fast. Get your key ideas and supporting data presented boldly.
---
Power Edge – PowerPoint Template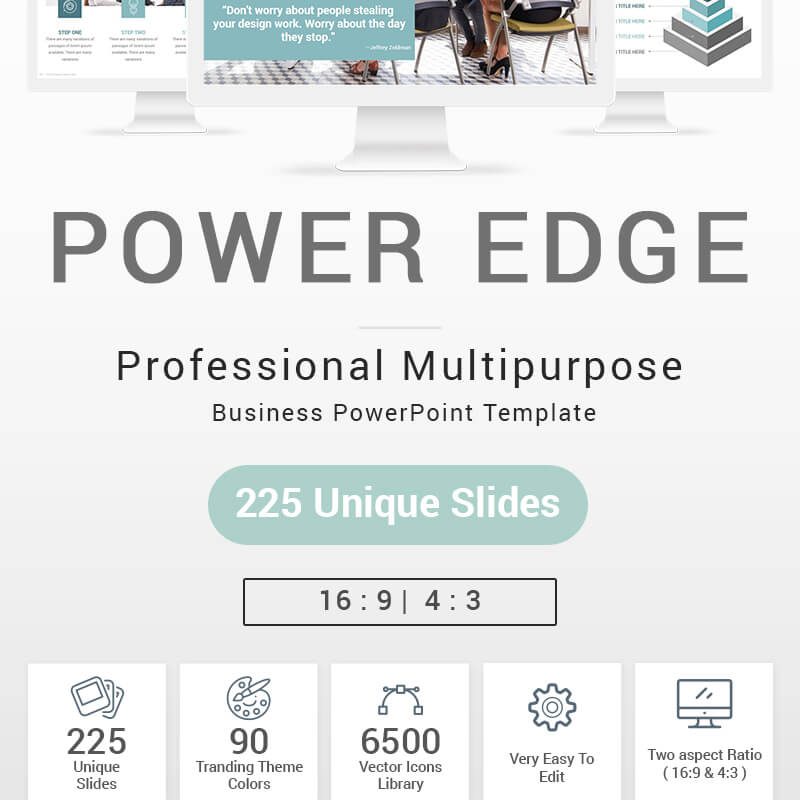 Power Edge is a cool PowerPoint theme that includes professional modern layouts with data visualization elements including charts, diagrams, tables, and more. You can quickly customize the charts and tables by adding your own information. Plus, you can modify the color and add your own photos and images. If your presentation needs to include data, this is one to consider. And this template comes with its own help file. With over a hundred unique slide designs, this template can be used for a variety of projects. Use the animation and transition effects to further capture your audience's attention. Use the agenda slide to outline your plan for your meeting and let everyone know what to expect. The process delivery slide can showcase every step of your process – whatever it may be. The product comparison slide is perfect for weighing the pros and cons of your products. This is a great template to use any time you need to make the right impression with your presentation.
---
Omar Modern Business PowerPoint Template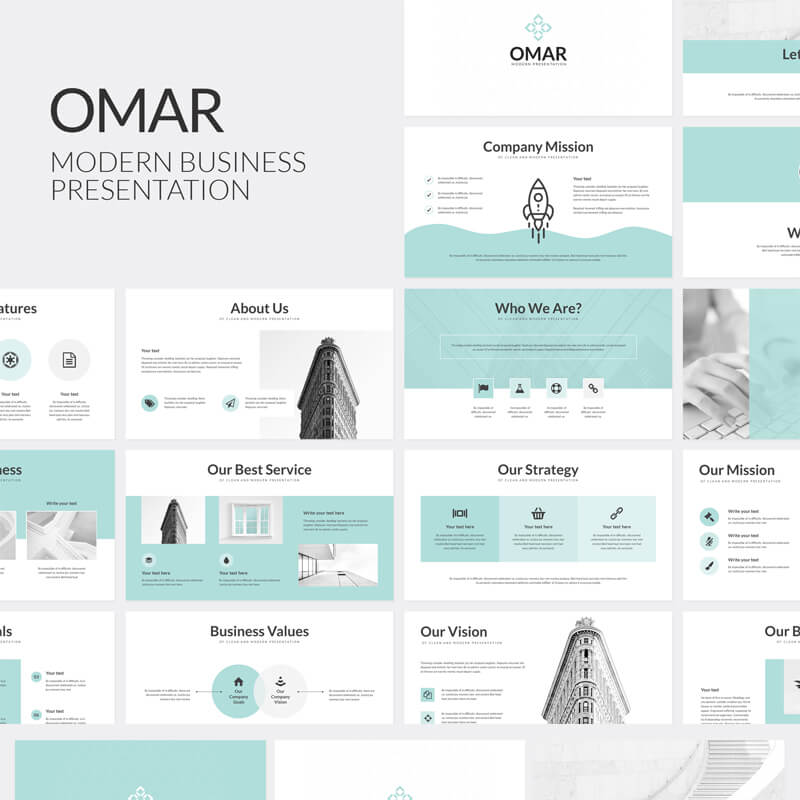 If you need to give a presentation with lots of graphs and charts, then Omar Modern Business PowerPoint Template is the right template for you. This 35-slide template is all about visualizing data. We've included a bar chart, several pie charts, a stacked bar chart, and a stacked line chart. There's also a dashboard slide to give your audience a bird's eye view of your corporate data sets. This creative PowerPoint template is more concentrated on infographics, charts, timelines, team profiles, and maps. With just one click you can completely change the color of the slides to match your brand identity. Furthermore, you can utilize more than 5000+ completely editable vector icons and unlimited theme colors to improve your slides.
---
Complete Business PowerPoint Template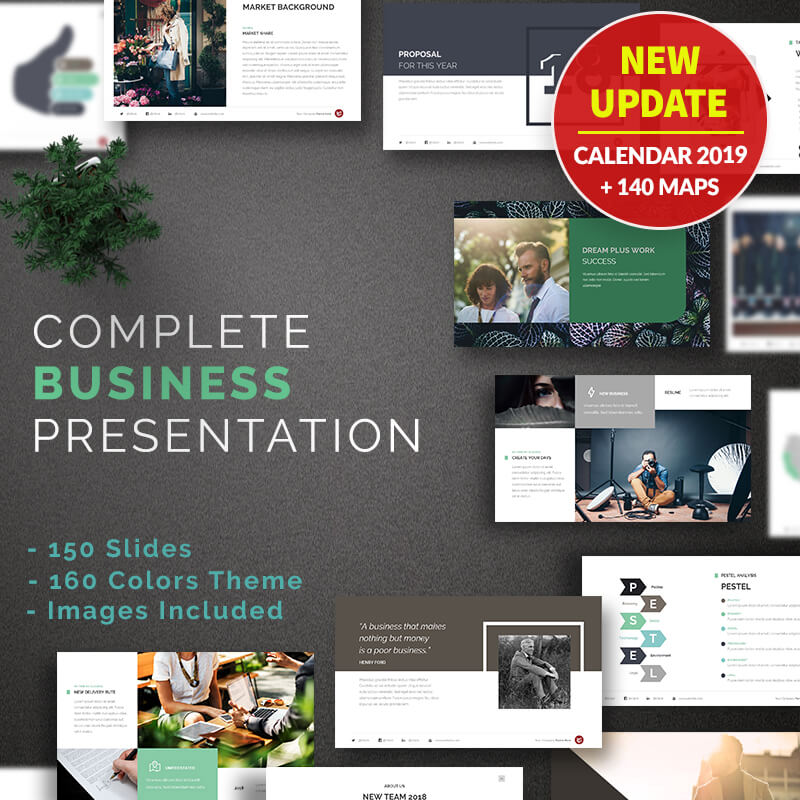 If you execute a project or task with proper planning, then success is guaranteed for your business. For making a strategic business approach, you can choose this premium Complete Business PowerPoint Template. This template is a powerful, minimalist and cleans the best PowerPoint template featuring 15 unique slides, 140+ highly customizable vector maps, and 160+ premade theme colors. If you are in research of finding high-quality and best business PowerPoint templates, or some good business plan templates, then you can go with this business plan PPT template. This multipurpose PowerPoint template can be used for any type of business presentation or even startup pitch deck presentation for pitching the investors or shareholders for your business. It comes with a ton of PowerPoint slide layout options and fully-editable vector brand elements, professional infographics, quality vector illustrations, numerous color options, and more. Professional presentation templates will help you establish a visual hierarchy in your presentation. Because when you present a new slideshow, your audience draws their eyes wherever you lead them. The primary area of a slide is called the focal point. It's the part that people concentrate on or pay most attention to within a slide. Normally, your focal point defines the hierarchy of information. Most often, the focal point is one of these things: a title a specific visual an important phrase an important number. Those templates were designed methodically so that different slides use what's important to focus on one thing at a time. There you'll find exemplary content that will get you feeling inspired. From eye-catching formatting to icons that determine the reading order and help your audience visualize your point. Also, you'll find there contrasting colors to make your focal points pop. All in all, thank you for reading this article. I hope you'll enjoy using those PowerPoint presentation templates.
---