The best survey plugins can help your business to grow when used correctly. This is because they come with easy-to-use interfaces, a high level of compatibility with various devices, and other premium features. Do you want to know the best part? It is a fact that are free WordPress poll and survey plugins that can offer such features.
This post will be revealing some of the most popular free WordPress poll and survey plugins. Just check below to find the one that can meet your business needs.
Also, you can check Best WordPress Cookie Plugin.
1. Formidable Forms

Formidable Forms is one of those WordPress form builders that you don't come across too often. Its features are quite impressive which is why members of the public have had it installed more than 300,000 times. As a user, you have the chance of building forms with various surveys. There are lots of options you can explore to make your forms look professional like radio buttons, star ratings, and many more.
Although Formidable Forms is also available in a paid version, its free version is quite magical too. As a matter of fact, it is one of the best around due to its easy-to-use features. Even if you haven't created surveys before now, this plugin can help out today in getting such completed. To build a survey, all that is required is using its drag & drop platform to create fields. This form builder has earned lots of positive reviews from users.
---
2. WP Forms

Hiring a developer to have forms created on your site can cost hundreds or even thousands of dollars. This is one problem that WP Forms has been created to solve. This form builder is not just powerful but also very easy to use. There are lots of things you can create using this tool like payment forms, subscription forms, feedback forms, and contact forms. The best part is that within few minutes, these can be created. In case you don't understand anything about codes, this is one of the easiest form builders to use. Now, you can build professional-looking forms.
It doesn't really matter the device (tablet, smartphone, or PC) that these forms are being opened in as they will always look great. Also, they have been optimized for the best server performance. This means even if you are into search engine optimization, there is no need to bother since they are a combination of high functionalities and speed. For more features and better functionalities, it is recommended to upgrade to its premium version.
---
3. Quiz And Survey Master

From its name, you can easily guess how this plugin can help out your website. Simply put, it enables you to add surveys and quizzes. Adding surveys to your website in order to get feedback from people doesn't have to be complicated. You only need the right tool to make such happen. Quiz and Survey Master can ensure such becomes a reality with the click of few buttons. The interface of this plugin may not be friendly but there is no doubt that it comes with numerous features.
Other things you can achieve with this plugin on your website are the addition of leaderboards, scores, and interactive answers. Also, emails can be sent to people after they have succeeded in completing survey tasks. It could be sending them "Thank You" messages or redirecting them to another page. This is indeed a plugin that is worth installing on your site today.
---
4. CrowdSignal

This was formerly known as PollDaddy. With the installation of this powerful plugin, one thing is certain. This is the fact that no technical skill or experience is required for the creation of ratings, quizzes, polls, and surveys. Please note that this isn't suitable for creating contact forms. Therefore, if you are in need of such forms, it is recommended to find other options. Instead, it is one of the best for the creation of polls as well as surveys.
Although this is a plugin that can be installed free of charge, an API key is required to make it work. This is not difficult as all you have to do is signup for an account with wordpress.com. With its revolutionary drag & drop features, creating surveys and polls is very easy to achieve. There are lots of features you can easily implement while creating surveys like styling options, results sharing, survey settings, and many others.
---
5. Survey Funnel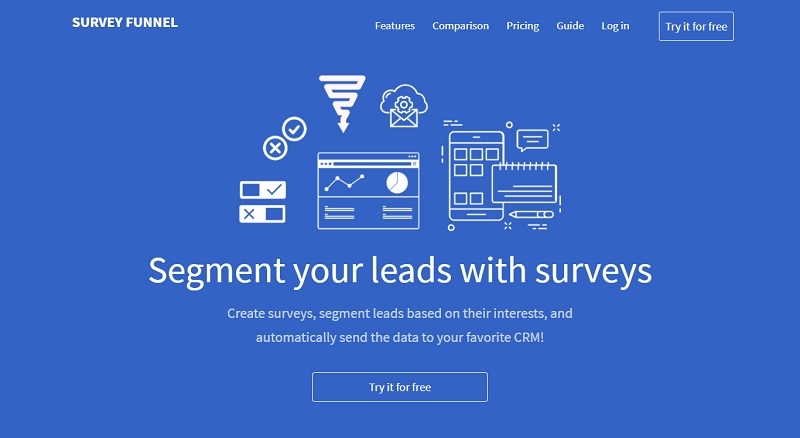 One of the most attractive features of Survey Funnel is the fact that it comes with an interface that most users find to be highly intuitive. In case you are thinking of creating surveys without bothering about how to write codes or any technical jargon, Survey Funnel ticks all of such boxes. The surveys that can be created using this tool have the potentials to increase your conversion rates to a great extent. Using surveys to generate quality leads just got easier with the installation of Survey Funnel. This is why it has been one of the favorites of top internet marketers for years.
Just by clicking few buttons, you will have access to the data/statistics of your surveys. Also, it automatically generates questions for your target audience. With its various display options, this plugin gives you the chance of deciding whether surveys need to be shown on a single page of your site or on multiple pages.
---
6. WordPress Survey & Poll

One of the most obvious benefits of WordPress Survey & Poll is that you can create surveys that are highly customizable in many areas. Imagine creating surveys that you have always imagined. This is made possible due to its color picker. With such a feature, you can create eye-catching surveys and polls.
There is something that has made this plugin to be very popular amongst others. This is its ability to provide information of users in the form of graphs to aid your decision-making process. If you are searching for a way to create polls that your target audience can fill without the need of registering or logging in, this is one of the best plugins amongst others.
---
Conclusion
Based on the above-recommended free WordPress poll and survey plugins, it is very obvious that you don't need to spend a dime before getting access to premium WordPress survey & poll plugins. It is all about looking in the right direction.