Bootstrap has been nothing short of a blessing to the world of web designers. This framework has improved a lot of things about the look and feel of today's websites. From delivering professional products to enabling designers to meet project deadlines, bootstrap is a prerequisite for anyone who seeks to be high-flying in bootstrap chats design.
In addition, bootstrap has an amazing chat design that will make your website look classy. You don't have to go through the rigors of building your chat application from the basics. Adopt a suitable chat template from numerous templates available in Bootstrap and customize it to your taste. This article will show you a list of bootstrap chats designs you can work with. They are free and very helpful and educative.
1. Skippy Desktop Messenger
Skippy Desktop Messenger is the hard work of the designer team from dribble.com. This is an amazing piece of design. The simple chat layout and provisions for background colors make it even more fun. On the left side of the chat template, the list of chat contacts is displayed. On the other side, it shows the contents of the person you are actively chatting with. It contains some beautiful emojis that you can add to your work effortlessly.
With this sort of ready-made template, you should have a chat application ready in no time. Should you feel like adding anything extra to this design to suit your requirement(s), you can always do so. Skippy Desktop Messenger is free.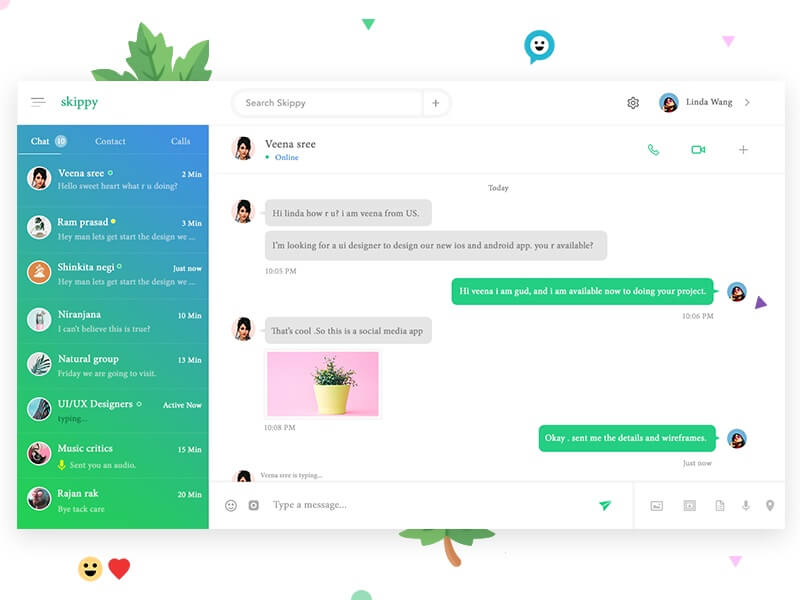 2. Chat App
The chat app comes with an incredible design layout. This layout is extremely exquisite for a chat application. There are a lot of things you are definitely going to love about Chat App when you see it. For starters, it has a soft kind of look and feels. It equally applies the chat list panel on the left while holding the active chat panel to the right. Users should not find it difficult to use it in any way because it is very similar to most chat applications. This app was in the archives of dribble.com until the project was canceled. But you can look at the bright side – register the design in your mind, get another bootstrap design that looks similar, and begin your implementation right away! This chat app design is worth all the effort.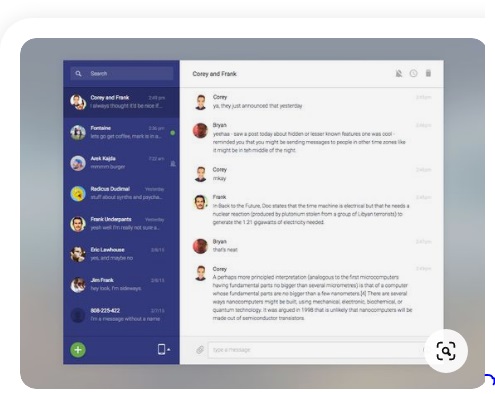 3. No Name
Are you looking for something a bit more sophisticated in terms of chat app design? If yes, then count yourself fortunate. Bootstrap has got you covered with the chat app template below. Look closely at the layout, you will notice that it is remarkably different from the other simple chat applications.
The entire chat layout has been divided into four segments, considering the image beneath. For someone who is working on a big-time application that involves a chat section, this template won't be a wrong choice. A single chat layout will contain a lot of information. As earlier posited, this one is for people who are inclined to advanced designs.
You also need to know if your target audience would prefer this before adopting it.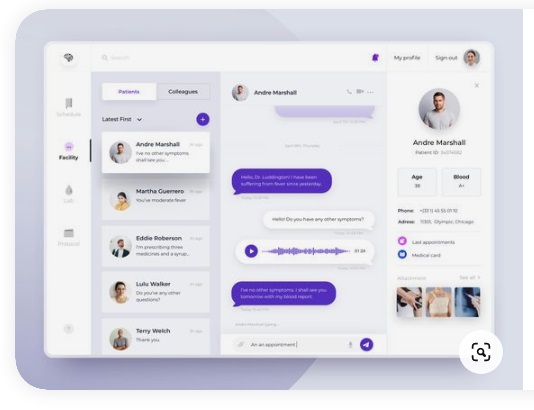 4. Chat – Property Dashboard
You should never get tired of checking through all the chat design templates you can find on any platform. There is always one big surprise waiting by the corner. For instance, the Chat – property dashboard on dribble.com is one of a kind. It offers you the best of simplicity and sophistication. The animation features you see when you click on a particular button are just simply mind-boggling.
This design template does not have too much information like some others. Dribble.com is where you will get a better look at this template. There are many templates for you to choose from if you ever feel dissatisfied with this chat template. You don't have to pay a dime before you can use this template design.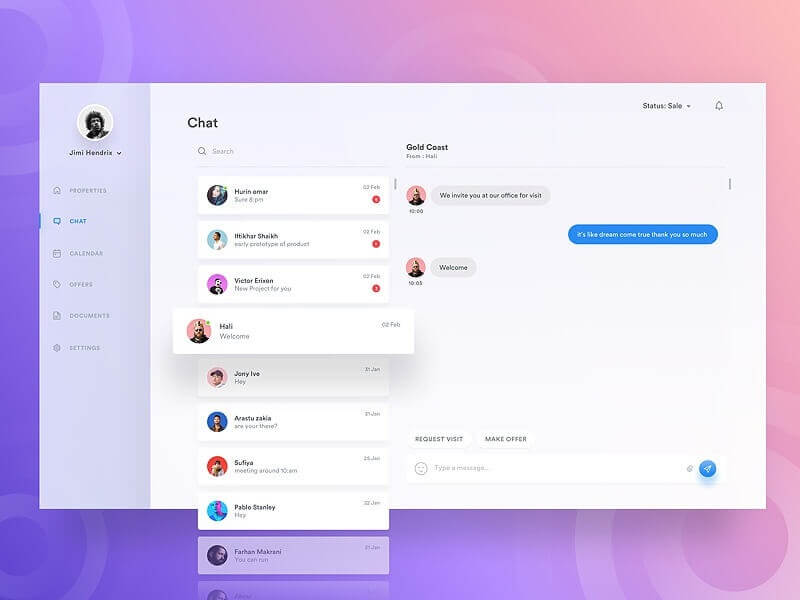 5. Dashboard Messaging Platform
Innovations are never-ending. Competition and new ideas are what have brought all the improvements we have today in our web chat applications. The point I am trying to make here is that the Dash Messaging Platform comes with its unique design template. This chat app offers you the option of viewing everything on a single page, thus the name, Dashboard Messaging Platform.
From your notifications, to chat lists, to active chats, to user profile, you can simply view everything on a single page. You don't have to keep flipping through different pages to view stuff. This chat template will be sensible for people who prefer fully developed designs. It is also rewarding to note that his design is free and available on dribble.com.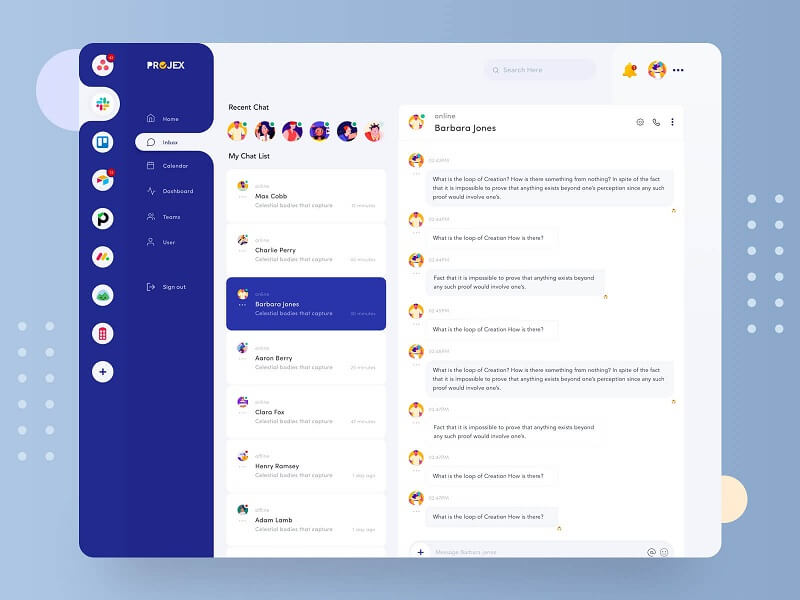 6. Balance
Perhaps, you want to stand out of the crowd and do something that is completely different. Something unique and edgy! This chat template from behance.net is indeed one of a kind. You don't get to see too many chat applications like this. I'm even thinking you may never have seen anything of such. It's amazingly bizarre. The tabs on the top help you view your chats according to date(s).
You can decide to view them by month, by day, or even all of them. If you don't like this template at first sight, please go for something else. No need to compel yourself to like it when there are hundreds of templates and design patterns you can choose from or emulate if you want to build something from scratch.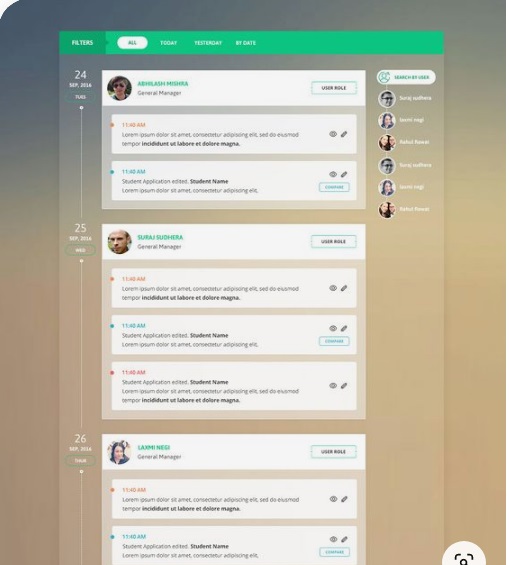 Conclusion
Who told you that you must build a chat application from the basics? I thought so myself when I first started web design. But interestingly, you don't have to! Bootstrap is here to help. Adopt any of the many templates you find online and think of how to customize it to your taste. Some of these templates are free while the others are paid for. Save yourself the stress by adopting one today for that chat application you are trying to build.