Are you planning to make a custom logo for your business? Are you wondering where you will get your custom logo made? Do you want the best services to make your logo for the website? Do you need something attractive to the audience in catches the attention quickly? The logo-making services are available quite widely all over the internet but finding out the best option can be a little tricky. If you are wondering what the platforms and the websites offering custom Logo services are, let us help you out. We have compiled a list of some of the best custom logo design websites and services that can help you with the best logos that are not only attractive but can be made on a limited budget.
So what are you waiting for? Dive into the research below and choose the ideal custom logo-making website platform and website that is reliable and provides satisfactory logo and other services.
But Before That, You Must Know Why Do You Need A Custom Logo-Making Platform?
Most people go for custom logo design services. Do you ever figure out why people go for customized logo design services? The custom logo is more attractive and will provide better customer attention compared to the primary logo templates.
Many people are going for the custom logo just because they want to create better brand awareness and image that can be captured in the subconscious of the audience. People are hiring custom logo makers and designers because they want a unique and attractive logo and a lot more than just the basic template.
When you are making your custom Logo, you can play around with different colors, and you have a better sense of control regarding the font size and other detailing.
And when you want to become part of the bandwagon, you will require custom logo designing platforms and designers to provide you with excellent services at a reasonable price and reliable services.
When you are looking for reliable and satisfactory logo design platforms that can help you with custom logo designs, we can help you out. Check out the list of best custom logo design websites below.
1. 99designs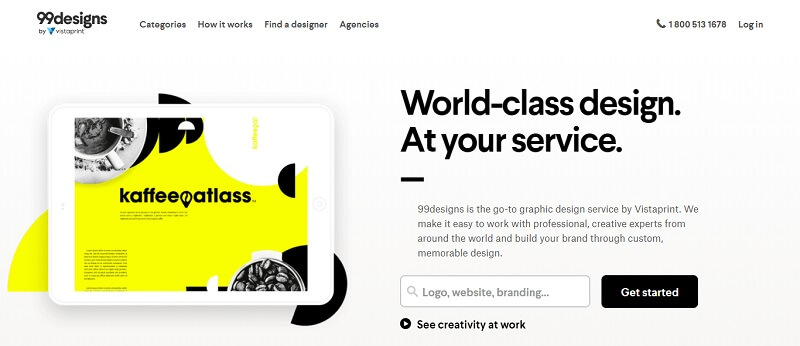 99designs is a well-known custom logo-making website that will require your business outline, and it can help you make a custom logo within a minimal amount of time. If you are looking for a platform that can connect you with top-notch logo-making services and designers who can help you with excellent designs, this website can be the middle one.
You can select the template and the design and communicate to the designer to provide you with a superb Logo just the way you want and according to the business outline. It will not cost you a lot of money, and also it is reliable to provide you designers to make your logo impressive.
2. Looka's Logo Maker

Looka's logo maker is another custom logo-making company that will provide you with several different logo designs. You will have numerous templates to choose from. It is a company that will generate your sophisticated all luxury logo designs along with keeping the outline of your business in mind.
Moreover, it is super affordable and does not cost you a lot. Whenever you are looking for reliable services and a company that can provide you high-resolution logo, you know who to approach.
3. Fiverr

Fiverr is also a platform that works as a middleman to connect designers to clients. It is a freelancing platform that will offer you logo-making services and provide you with a lot more than just that. The good thing about this platform is that it is super affordable, and you will find an excellent logo designer from this platform.
This platform is highly recommended for anybody who is planning to make their custom logo design. Also, if you are looking for affordable options along with excellent support, then it is something that you should go for.
4. Canva

If you are not looking for somebody to make the custom logo for your website, you can go for the platform that offers you easy do-it-yourself custom logo-making services. Canva Pro is the platform that you can use for making your custom logo in no time.
However, you will need to subscribe to the pro premium package. It will cost you around 12.95 dollars per month, and it is super affordable as well. You will have the liberty to change the text and the color whenever you need, and you can do it yourself without hiring anybody else.
Also, it does not require any prerequisite designing knowledge. It is always a better choice to make your logo with Canva because you can change the sizes and formats, and you can use it for several various platforms, including social media and postcards.
5. Upwork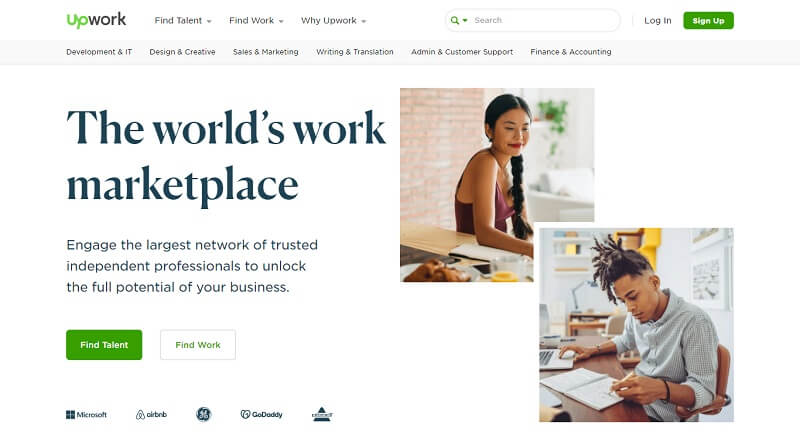 Like Fiverr, Upwork is another one freelancing platform that connects freelancers to clients. It is the platform that will offer you not only logo designing services but a lot more than just that. It has a similar process to any other freelancing platform, and the prices are pretty good.
You will be getting an excellent communication platform to get the ideal designing services at a minimal cost when working and hiring anyone from Upwork.
6. Freelancer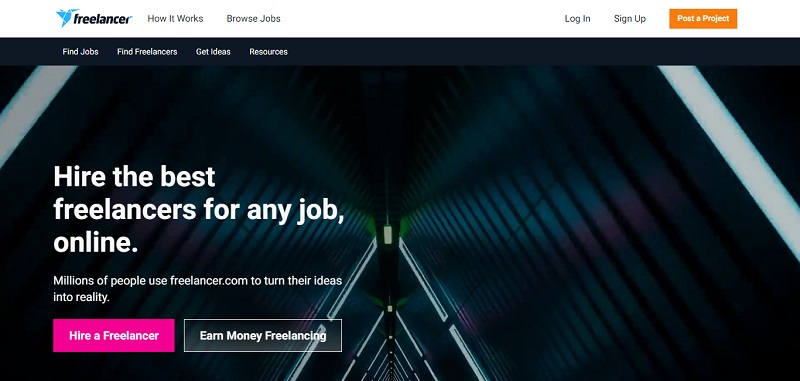 Freelancer is a freelancing platform that will provide you with excellent services like Upwork. It is also a middleman that offers you logo designers that are from all over the world. You can choose the ideal option based on requirements and pricing.
Again, you can ask them to provide you with the logo design based on the template and the company outline. Communication will be a lot easier, and the custom logo will be better to have made by a designer who is a professional rather than making it from a do-it-yourself website.
There are some of the free websites also available that you should explore. But apart from that, the above-listed best custom logo design websites are excellent for providing you just the right amount of assistance and connecting you to the professional logo designers that can make custom logo designs for you.